Social media marketing is the use of social media platforms to perform advertisements or promotions in order to promote your brand and business offerings online. Social media platforms such as Facebook, Instagram, TikTok, Twitter, and YouTube are commonly used in today's marketing campaigns.
The growing number of social media users globally has created tremendous changes in the marketing industry. People can now easily find and follow your brand on social media platforms, making it one of the most effective ways to promote your products and services, making social media marketing an effective way for businesses to raise brand awareness and reach out to their target audiences easier and at a lower cost.
In this article, we are going to walk through how social media boosts your brand campaigns.
Benefits Of Social Media Marketing


The widespread use of social media as an effective channel for marketing has become a staple strategy for businesses seeking online popularity. Here are some of the advantages of social media marketing for businesses: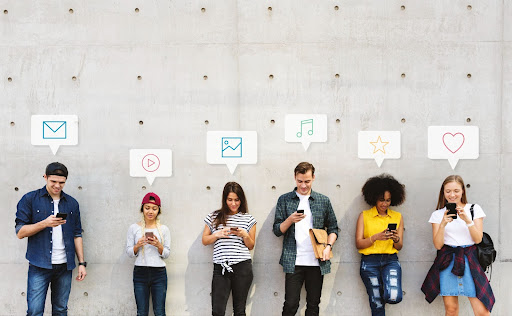 Transforms Your Business Into an Active Participant In The Market
People prefer to avoid robotic marketing strategies in favor of promotions that are interesting and relatable. Your audience wants to know your business' other customers, their experiences, and their opinions about your brand. Correspondingly, the importance of having your business create a consistent voice enables your brand to become more relatable to your audiences. 

Social media allows you to humanize your brand. You can give your brand an approachable persona that your audience can follow, connect, relate to, and trust.  Your target audience is interested not only in your company's products and services but also in the brand itself and the people behind it. 

Boosts Online Traffic to Your Website
Through ads, referrals, and blog links, social media assists brands in increasing their reach and engagement with key audiences, making them a reliable channel for driving customer traffic to your business website.

People prefer convenience. Integrating your website's URL into your social media bios can be convenient for your audience to navigate to your site without them scrolling through the search engines. Another way of boosting your website traffic is by sharing relatable and share-worthy blogs. 

Writing thumb-stopping headlines, catchy visuals, and engaging captions are a few of the factors that can make your readers want to know more about the blog post you shared. Thus, clicking through the attached blog link increases the number of visitors to your website.

Increase Community Engagement And Conversions
Some social media platforms, such as Instagram and Facebook, have marketing features that allow users to directly shop and send messages. Features also include call-to-action buttons and appointment booking capabilities. 

These features in social media platforms give your brand an immersive storefront where your audience can easily explore your products and services while highlighting your best offerings, effectively generating leads and conversions.

Build Trusting Relationships With Your Customers
Customer trust is one of the key factors in building brand authority. A trusting relationship with your customers enables your business to deliver better experiences. Why? Because this allows you to understand your customers and offer a personalized customer experience.

Social media platforms can be a means for direct and indirect communication with your followers, allowing you to hold discussions, collect feedback, and connect with individuals directly.

Improve Your Content Planning
A well-planned content strategy not only boosts traffic and conversions but is also what defines your business, helping your brand build a strong and trusting relationship with your audiences. 

The content for your marketing campaign is the core of how your audience will define your brand. Effective content planning strategy involves making sure that your tone of voice, messaging, and business values are apparent.

Effectively Engage With Your Audience
Customer engagement is not only about gaining business profit. It is also a means for your customer to interact with your brand and vice versa. The more engaging your content is, the stronger their connection will be to your brand, adding positive value to their experience.

Effective engagement allows your brand to retain customers by establishing a trusting relationship between your brand and your target audiences. This will help your brand authority grow by gaining more loyal customers.


Influencer Marketing In Social Media 
TikTok Influencer Marketing
TikTok marketing involves the process of using TikTok as a platform to promote business brands. With the use of TikTok Media, businesses are able to produce video contents that engage with target audiences and showcase business offerings.

Being one of the fastest-growing social media platforms, businesses are creating ways to make TikTok a marketing channel for promoting their brands. Through collaboration with prominent influencers, brands are able to leverage the advertising capability of TikTok to reach thousands to millions of active users.

Brands with business accounts have access to TikTok Analytics, allowing them to identify the most popular video uploads as well as other metrics like Video views, Growth rate, and Watch time. Access to data analytics assists brands in identifying bottlenecks and optimizing their marketing strategies, giving brands tremendous help in boosting their brand campaign.


Twitter Influencer Marketing
Twitter is currently one of the most popular social media platforms. Businesses have seen this as a valuable source of customer insights, with millions of active users and an estimated 6000 tweets per second. Twitter has become a useful social media platform for providing valuable content to audiences before they become customers.

Collaboration with Twitter influencers is a marketing strategy for quickly and cost-effectively increasing brand awareness. Influencers on Twitter can provide an authentic endorsement for your brand. Influencers already have a trusting relationship with their followers, which makes their words trustworthy and allows them to directly reach your target audience.

See More: https://sproutsocial.com/insights/benefits-of-twitter/ 


Instagram Influencer Marketing
Instagram influencers are well-known individuals who have amassed a large following on Instagram. The reason because their followers respect and idolize them, which makes their opinions trustworthy and favored. The emergence of Instagram influencers created enormous opportunities for businesses to adapt and develop effective marketing strategies for their brand campaigns. 

In comparison to traditional advertising, Instagram influencer marketing allows businesses to promote their brands and reach their target audiences without sounding too salesy, allowing them to connect with their audiences in a more humanized manner.

Influencers share many aspects of their lives with their followers, which makes us feel as if we know them personally. As a result, when an influencer we like promotes a brand or endorses something, we listen because we believe we can trust their words.


YouTube Influencer Marketing
As YouTube influencers gain popularity, more and more brands are using YouTube social media to reach their target audiences.

Identifying the right influencers to work with is the first step in launching a successful YouTube influencer marketing campaign. Collaboration with prominent influencers with a large following will not always be the solution to increasing conversions and profits. In some cases, nano to macro-influencers with a strong affinity to your niche is the best fit for your brand campaign.

In some cases, YouTube influencer marketing can be less expensive than traditional advertising, such as print or television ads. If you are considering a cost-effective method that helps you boost your brand campaign, consider collaborating with YouTube influencers to reach a wider audience, drive traffic, and boost your brand's visibility online.


Boost Brand Campaign With Social Media Marketing


Almost every successful business uses social media platforms for its marketing campaigns. Brands are realizing the potential of social media platforms such as TikTok, Instagram, Twitter, and YouTube to connect, engage, and attract audiences.
Planning an effective brand campaign that resonates with your target audience requires a lot of innovative ideas and creative processes. In order to stand out from the crowd, brands are now required to become more creative than ever before. 
With the global growth of social media users, businesses have turned to social media platforms as part of their marketing strategies for brand campaigns. As a result, social media platforms have emerged as one of the most effective ways to boost brand campaigns.