You understand the importance of using social media to strengthen your brand if you run a small or medium-sized business. Social media is essential for raising brand awareness, but it has also shown to be a profitable way to increase sales.
Although TikTok is still in its infancy in terms of social media, it is rapidly becoming a vital resource for numerous businesses. With an estimated 800 million active users, it is the social media platform that is expanding the fastest. TikTok is the platform to use if you want to stay ahead of the curve and attract new audiences.
How can you then maximize TikTok to connect with both potential and current audiences? Working with nano-influencers, often referred to as micro-influencers (also known as the "nano") is a fantastic method to develop your brand on the platform. They typically have at least 2,000 followers that are content producers. However, this follower count at as little as 500, and the others are reaching 150,000. Any TikTok star with a following greater than this enters the category of macro influencer.
Micro-influencers Promote Higher Engagement
Micro-influencers are among the best marketing resources since they may increase your conversion rate and provide you with a high level of engagement!
Only 8% of the time do accounts with fewer than 1,000 followers receive likes and comments.
According to the statistics:
Influencers with between 1,000 and 10,000 followers have an average engagement rate of 4%.
Influencers with between 10,000  and 100,000 followers have an average engagement rate of 2.4%.
Influencers with between 1,000,000 and 10,000,000 followers have an average engagement of 1.7%.
Micro-influencers give you access to a focused audience of people who are interested in what your company has to offer because they have smaller, more specialized audiences and a highly engaged follower base.
How Can TikTok Micro Influencers Assist You In The Growth And Expansion Of Your Brand?
Despite having smaller audiences, they frequently have more engaged and invested fans. Working with TikTok micro-influencers should be a component of your social media marketing plan since they may introduce your business to a focused target audience of followers.
Let us phrase it this way:
Affordability – TikTok micro influencers are perfectly suited for smaller marketing budgets because they are less expensive than their more well-known counterparts.
Access – When influencers become well-known, layers of bureaucracy quickly consume them. You risk having your request ignored by a dismissive agent, and it could be challenging to get through to the actual influencer. It can be considerably simpler to connect with micro-influencers who are fresh to the game.
Willingness – They are more eager to take on tasks and more likely to want to promote your company because they haven't yet attained fame and success.
Effective – Instagram and Facebook both have established millennial strongholds, but TikTok is firmly Gen Z. As a result, it's a great method to appeal to that generational zeitgeist and market to a knowledgeable, picky group of consumers.
Engagement – It may not have millions of followers, but that doesn't mean its existing audience is any less engaged. They don't always have a large audience, but they provide quality in spades.
Trust – Micro influencers can't be accused of "selling out," or putting money-making ahead of producing quality content, as they have smaller followings and more modest reputations. Because of this, followers of micro influencers tend to have higher levels of trust in their followers; this is a resource you can utilize to raise the profile and sales of your own company.
7 Simple Stages How To Find Micro-Influencers On TikTok
1. SET SPECIFIC GOALS FOR THE TYPE OF CREATORS YOU ARE INTERESTED IN
To achieve this effectively, consider your brand from the eyes of your audience. They want to see what kind of content you have. It might be ideal to identify a Creator who has previously made a public post about your business if you want to work with someone nearby or in the same location as you. Is it preferable to collaborate with a Creator that prioritizes aesthetic or educational content? Set objectives for the Creators you want to work with after taking your brand identity and your target audience into account.
2. RESEARCH IS THE KEY
Someone may not be the greatest Creator to collaborate with just because they have a large fan base. Before deciding, take into account the following:
What types of videos do they create, and how frequently do they post new content?
Do they seem to preserve the same goals as your company?
Have they already collaborated with any other brands? especially any of those in your area of expertise?
Do they interact with other creators and reply to comments?
What is the app's user engagement rate?
3. CHECK TO SEE IF ANY OF THE EXISTING INFLUENCERS YOU'VE WORKED WITH ARE GOOD TIKTOK CONTENT AUTHORIZERS
This one may seem obvious, but it is still important to mention. Check to see if any Instagram influencers who have previously done successful results are also producing content for TikTok. It's simple to make sure you pick the ideal influencer for your social media strategy by extending your partnership with multiple apps.
4. SEARCH CAREFULLY AMONG HASHTAGS
Finding suitable brand hashtags on the TikTok app can be done by using the Discover page. Even if you operate in a very market niche, chances are at least one Creator will be creating content there.
Whenever a TikTok influencer uses a hashtag associated with your brand—eg #influencermarketing or #socialmediamarketing—probably, most of their followers has an interest in these topics. In other words, they are an excellent alternative for a partnership because they have already established relationships with your target audience.
5. SEE WHAT OTHER BRANDS ARE DOING
Make a list of competing companies in your industry and research their TikTok activity. Click on the pages of the Creators they are collaborating with and the hashtags they have employed from there. It's simple to get lost in content rabbit holes on the TikTok app, which is ideal for marketers who need to conduct some research. Searching the #ad tag for influencers and sponsored content that can work is another possibility for your campaign.
6. COLLABORATE WITH A COMPANY THAT CATERS TO TIKTOK MICRO-INFLUENCERS
Similarly to Instagram, there are a number of companies that handle brand partnerships for TikTok Creators. IGTV,  Likee, and more are a platform that links creators with companies like yours so they may establish their own collaborations. When brands sign up, their briefs are added, and Creators who are interested in representing your business choose to take them on.
7. VERIFY THE ENGAGEMENT RATES OF CREATORS
In comparison to Instagram, TikTok places far more priority on a Creator's engagement rate than it does on their follower count. Working with influential individuals—as opposed to just those with a lot of followers—will help you reach your goals. It's simple to attract followers, but only the top Creators can build engaged and devoted fanbases.
Here's how you calculate Creator's engagement rate: 
[(Number of likes + number of comments + number of shares) / number of views] X 100%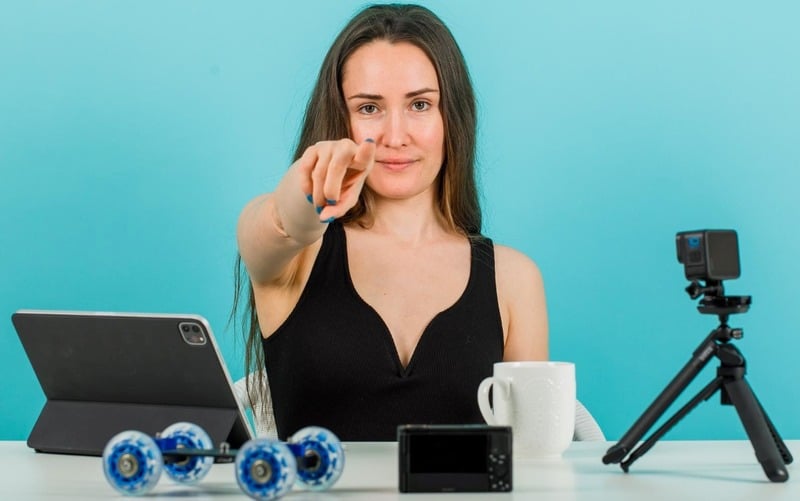 Working With Micro TikTok Influencers
In comparison to Instagram's micro-influencer engagement rate of 3.86%, TikTok micro-influencers have an engagement rate of 18%. Over nine billion videos on micro-influencers can be found on TikTok. The #microinfluencer hashtag has anything from branded content to instructional videos, so have a look. When you want to get an idea of the type of influencer marketing agency you might eventually end up working with, this is a perfect place to start.  Because they have smaller, more niche audiences and a loyal fan base, micro-influencers provide you access to a targeted group of individuals who are interested in what your business has to offer.